Thanks for Visiting! Join our mailing list so we can keep you in the loop.
---
SELF INDULGENCE IN THE NEWS
SI was recently featured in the "Life" section of the News of Delaware County.
Read The Full Story
---
Upcoming Shows
Rob Simpson Solo Beachfront Sunday Night Dinner: A Weekly Gig
Beginning on 7/6 Rob will start a standing solo gig at Oves Restaurant at 4th and Boardwalk in Ocean City, NJ during the months of July and August 2014 from 5:15-8:15 each Sunday. Oves is not your normal boardwalk food. They have an excellent seafood menu, and the location is right on the beach, a few blocks away from the many other stores/pizza shops/ etc… so it's really quite isolated and pleasant, beach-front dining. www.ovesrestaurant.com
09/06/2014 – The 2014 Haverford Music Festival, Havertown, PA – 2:45 – 3:00 – Oakmont Field Stage – The festival runs from 12:00 Noon to 9 PM 2013 set, 2012 set, 2013 Haverford Music Festival Videos
11/08/2014 – Fujiyama Sunset Lounge, 1495 Farmington Ave., Pottstown, Pennsylvania 19464 – They have a real nice, new stage, great sound, hibachi tables and bar set-up on the second floor with an outdoor deck!
---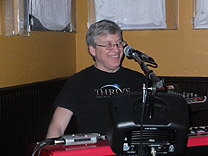 Audio – Some recent tunes…..

Keeper of the Flame (Original Tune) – 03/29/2014
Little Red Rooster – 03/29/2014
Friend Of The Devil – 03/29/2104
Big Railroad Blues – 01/31/2014
Locomotive Breath – 01/31/2014
The Ballad of Rex and Jenny (Original Tune) – 08/08/2013
Deal – 05/04/2013
Running On Empty – 04/05/2013
Suzie Q – 06/01/2013



---
Videos
Fujiyama Sunset Lounge, Pottstown, PA 03/29/2014
Keeper Of The Flame (an original tune)

Sugaree

Blue Sky

Jethro Tull's "Locomotive Breath" – Haverford Music Festival 2013

Little Red Rooster solo – Double Edge Sports Grille, 3-02-2013

"Live With Me" by the Rolling Stones at the 2012 Haverford Music Festival – 9/15/12 – Thanks to ClubInit.tv and Indre Recording Studios
Rob and Wally from Self Indulgence doing Arlo Guthrie's "Coming Into Los Angeles" – 10-13-12 – Collegeville, PA
---
About Us
The crowd is shakin', friends are laughing, the band jams out classic rock n roll, you dance. That's how it all goes down at a Self Indulgence show. If you like the music of legendary 1960's and 70's rock and roll bands like The Rolling Stones, The Allman Brothers, The Grateful Dead, The Doors, and much more, you will love the experience of a live Self Indulgence rock n roll dance party!
---
"Gotta play" – Bob Weir, 2011
Self Indulgence could not agree more with this sentiment!